Main Sewer Line Clogged
How to Clear a Clogged Sewer Line
Your home's main sewer line is an amazing part of your plumbing. All the food you pour down your garbage disposal, the dirt that washes off in the shower, and the stuff you flush down your toilets makes its way to the main sewer line where it is then swept away to the municipal line or private septic tank and is gone forever. At least that's how it's supposed to work as long as you do not have a main sewer line clog.
In a perfect world, you'd never have to worry about your sewer line not working the way it was designed to. However, there are a few problems that can keep all the waste from draining properly.  The main problem is when your main sewer line gets clogged and backs up.  Sewer line clogs make it impossible for the waste, water, and debris that go down your drains from being whisked away and disposed of. It then becomes unsafe to flush your toilets or run any water at all because then you'll start dealing with overflows and other problems.
Most main sewer line clogs occur over time by large chunks of food, grease, or other waste that gets poured down your drains and is unable to slide smoothly through the plumbing. There are some natural causes as well such as tree roots growing into the sewer line, and natural corrosion. The best way to avoid sewer line backups is to have a professional plumber come out and perform an inspection and routine cleaning of your pipes.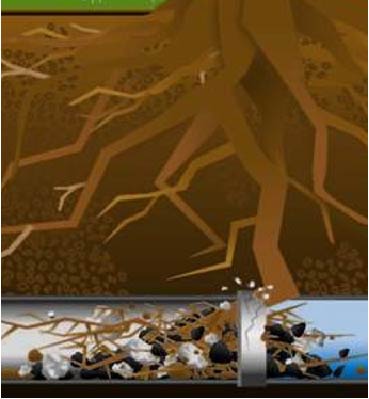 Signs Your Sewer Line may be Clogged
Schedule your main sewer line inspection and cleaning today!
Because your main sewer line is out of sight, it can be difficult to know if there is a problem brewing. Here are some signs that your sewer line may be partially or fully blocked.
Drains in your home are backed up
Standing water in your yard when it's not raining
Gurgling sounds from your drains
Unpleasant sewer odors indoors or outside
Drains clear slowly
Multiple drains clogged at once
Repeatedly clogged drains
If Your Main Sewer Line is Clogged, Aiello is Here!
If you've noticed any of the above signs, it's probably time to schedule an inspection. It's always better to be safe than sorry, and if you catch a problem before it gets too big, it can save you a lot of money in the long run. Aiello Home Services technicians are all certified and trained to handle any plumbing service or repair you may need. you can easily reach us at 855-569-9576, chat with a live representative, or contact us online. We'd be happy to help with a main sewer line or any plumbing problem!