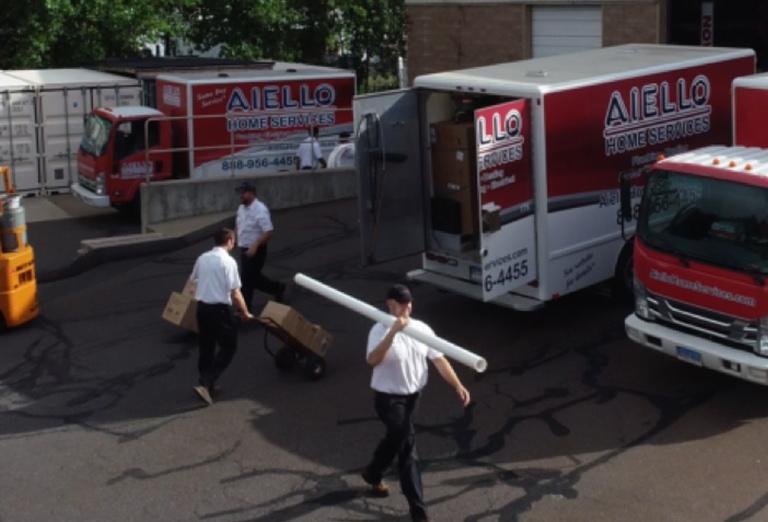 Frequently Asked Questions
We've compiled a list of frequently asked questions to help our customers find the answers they're looking for fast. And if you're particularly interested in hearing about a topic, we've included links to our blog where applicable.

Company-Related Questions
Who owns Aiello home services? Aiello Home Services is a 4th-generation family-owned and operated business that has been proudly owned by the Jezouit family dating back to 1931.
Is Aiello a local business? Aiello Home Services has increased our service area by quite a bit since 1931. But we'd still consider ourselves a local business servicing the cities and counties in central Connecticut. If you'd like, you can check out our service area here.
What makes Aiello different? Aiello has a 90-year history of keeping our promises and doing right by our customers. Very few home service companies can say that, and we continue to strive to provide the very best customer service. In addition, Aiello offers the most comprehensive guarantee and warranty protections in the state of Connecticut. So in the rare instance that something doesn't quite go as planned, we'll be there to make it right.
General Service Questions
What brands do you service? We service all brands and models, no exceptions! And we carry replacement parts for the most common brands in our trucks, ensuring a very high same-day repair rate.
How much is a repair diagnostic call? A diagnostic call at Aiello is just $99. For that price, Aiello will come to your home, perform a preliminary diagnosis and provide you with multiple options for resolution.
Do you offer any guarantees or warranties? Aiello honors 6 unique service guarantees, including our Workmanship Guarantee and 100% Satisfaction Guarantee. In addition, we have HVAC replacement warranties that can be extended for up to 10 years, and our Service Partner Plan includes a 2-year extended workmanship warranty on most services.
Do you offer a maintenance plan? Yes, we do. It's called our Service Partner Plan, and it's the best darn maintenance agreement you'll find in Connecticut. It covers the entire home for just $16.95 a month and includes priority service, repair discounts, extended workmanship warranties, and much more.
Do you offer oil delivery? We sure do! In fact, we've been offering oil delivery service in Connecticut since we first opened our doors back in the 1930s. So we've had a few years or so to master the process.
What is today's oil price? You can find up-to-date information on today's oil price by visiting our home heating oil delivery page.
Are you more expensive than other HVAC companies? We offer more value than just about any other home service provider in Connecticut and are highly focused on providing the very best customer service. As far as cost goes, we tend to be around the industry average. A few providers offer lower prices than we do, but you will want to verify their technicians are licensed & insured, and if something goes wrong after the service visit, you'll receive the follow-up service you deserve.
Troubleshooting Questions
Why is my AC blowing warm air? Some of the most common reasons for an AC blowing warm air include refrigerant leaks, leaky ductwork, and a clog in your outdoor unit. Thermostat settings can also play a role, so make sure you check your settings first to see if that fixes the issue. Read more about why your AC is blowing warm air.
What are some tips for preparing my home for winter? We recommend applying fresh caulking on your windows and doors, turning off any exterior faucets to avoid frozen pipes, and most importantly of all, getting a heating system tune-up! Read more about winterizing your home.
Why does my AC never fully turn off? If you've noticed that your AC is constantly running, it may be due to a refrigerant leak or a clog preventing air from entering the system. Also, if you've had this issue for as long as you can remember, there's a good chance the AC wasn't sized right to begin with.
My heat pump is frozen over. What do I do? In most cases, you'll want to call a trained tech to resolve this issue. A frozen-over heat pump tends to have an issue with its refrigerant line but could also be due to a reversing valve or the defrost control.
Why isn't my furnace turning on? Any number of issues might be preventing a furnace from turning on. Before calling a professional, you may want to check the thermostat, circuit breaker, and air filter, just to check off the easy fixes. If it's not one of those, one or more replacement parts may be necessary.
For Service You Can Trust, Say ​
"

Hello, Aiello!"
Proudly serving over 100 cities and towns across seven Connecticut counties.
Hartford Country
MIddlesex County
Tolland County
New Haven County
Windham County
New London County
Litchfield County