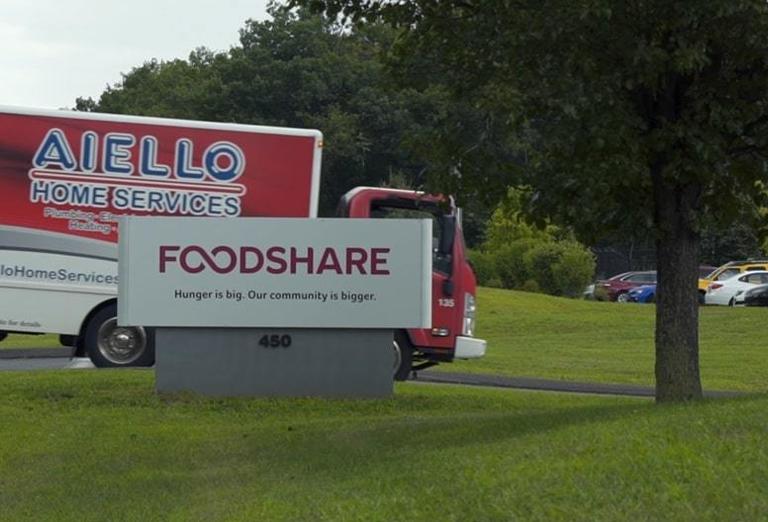 Community Involvement
Here at Aiello Home Services we are committed to supporting our local community. We know how important it is for businesses like ours to give back. By working with charitable organizations, we can improve lives within our community. Below are the organizations we have partnered with and we are continuing to grow this list.
We believe when our local community works together, we can truly make a difference. That's why we welcome any community request, big or small, and we will do our best to help.
We Are Proud to Sponsor These Life-Changing Non-Profit Organizations
Connecticut Foodshare
Connecticut Foodshare delivers informed, equitable responses to hunger by mobilizing community partners, volunteers, and supporters. They supply multiple local pantries and programs to get the food they need to help feed individuals & families in need. We have been partnered with FoodShare since 2011 and have made annual food donations from our annual food drive and turkeys donated. In total we have donated almost 20,000 lbs. of nonperishable food items and over 1,100 turkeys.
Connecticut Humane Society (CHS)
The CHS is a nonprofit organization dedicated to supporting and protecting animals in need. We love helping our customers, but we also love meeting their pets! That's why we decided to partner with the CT Humane Society to support our community and improve the lives of every potential pet and receiving family we can.
Project Purple
Take a Vet Fishing
Explore The Trades
Troops To Trades
Rotary club of Windsor/Windsor Locks
The Windsor Exchange Club
Windsor Locks Lions Club: Bradley Road Race
Hartford Marathon Foundation
Girls Scouts of America
Enfield, CT Youth Baseball Team
Manchester Knights Football & Cheer
Plainville High School Cheerleading
---
Our customers are welcome to join us in supporting these great causes. We are proud to be locally owned & operated and love spreading positivity throughout the community!
Help Us Make Connecticut a Better Place to Live
We also care about keeping your home safe and comfortable for your family, so please contact us if we can help with any of your Plumbing, Heating, Air Conditioning, Electrical or Drain Cleaning.