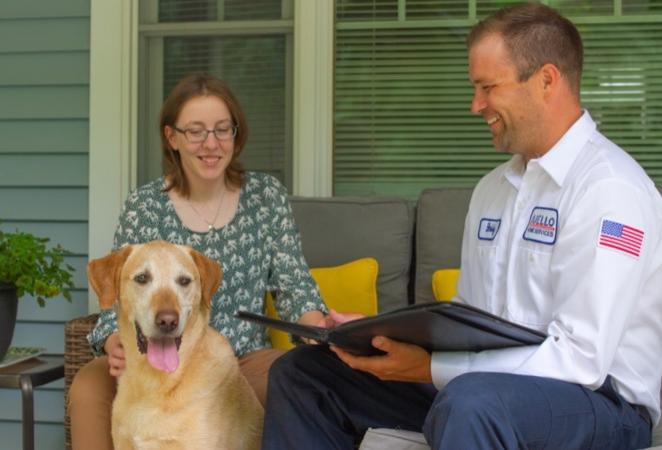 Plumbing, Heating, Air Conditioning & Electrical Maintenance in Connecticut
5‑Star Maintenance Protection for the Entire Home. Just $16.75 per month!
Aiello Home Services pulled out all the stops to create the most comprehensive maintenance plan in the state of Connecticut. That's plumbing, heating, air conditioning and electrical maintenance coverage, all for just $16.75 per month!
Service Partner Plan benefits
If you're looking for a complete home maintenance solution that doesn't compromise on value and service, you've found it. Aiello's Service Partner plan is Connecticut's most comprehensive maintenance plan covering all essential home systems!
All service partner agreements come with:
Emergency service. As a Service Partner, you are our priority! You can jump to the head of the line when you call and your job will be scheduled ahead of others. This applies to all emergency calls!
15% discount. You will receive a 15% discount off the bottom line for our plumbing, heating, air conditioning and electrical repairs for as long as our Service Partner relationship remains effective.
Trusted home service professionals. All Aiello technicians are drug-tested and background checked to ensure only first-rate providers enter our customer's homes.
100% satisfaction guarantee. We promise your complete satisfaction—guaranteed! If you are not fully satisfied, let us know, and we'll make it right!
Transferable. Your Service Partner agreement can either be transferred to your new home, or to the buyer of the home you are selling. Your choice!
Extended workmanship warranties. Our Service Partner members receive an extra year of warranty protection, for a total of two years of coverage! (limitations apply).
Protected and connected access. Turn your existing equipment into smart equipment with access to a secure smart home platform.
Heating, cooling, plumbing and electrical maintenance for one low monthly price
Join Connecticut's most comprehensive maintenance plan and receive all of the great benefits below and more!
Heating & AC partner benefits
High-performance system check (Spring or Fall). Recommended by manufacturers and utilities alike, regularly scheduled service can reduce breakdowns by as much as 95% and lower utility bills by 30%!
Relax, we'll call you! As a Service Partner, we make your equipment our top priority. We'll call you to schedule your system check, so you don't have to worry about it.
Loyalty system credits. When the time comes and it makes more sense to invest in a new system versus repairing your old one, don't sweat it. The money you spent to get the most out of your old system will go toward the new one. That's right: if you have us install a complete system, we will apply 100% of the money you used to pay for your Service Partner plan up to $1,000. If only a partial system, we will apply 75% of your credits.
Electrical partner benefits
Home safety system check. We will conduct a thorough inspection of the most important electrical equipment in your home to make sure you and your family are safe from the dangers of electrical fire, damage or shock. Performing this valuable inspection reduces the potential for disastrous failures in the future.
Service partner home safety promise. Our commitment to your family's safety is so passionate that we ensure that on our visit to your home we inspect and test your life safety equipment. If any smoke detector, carbon monoxide detector or ground-fault-interrupter receptacle we installed fails—it will be replaced FREE!
Plumbing partner benefits
On-going safety system checks. Your peace-of-mind is our goal. We will assess your home's plumbing systems to ensure they are in safe operating condition. You'll receive a detailed report of what we notice and we'll explain any concerns. We'll alert you to potential emergencies before they become disruptive problems. Any minor adjustments will be done—FREE. We'll even call to schedule your appointments so you won't have to worry about it.
Loyalty water heater credits. Your Service Plan can get you 100% of your money used to pay for your Service Partner plan, up to $250 for a new water heater.