Water Boiler Installation & Replacement

How Water Boilers Heat Your Home
A boiler is an extremely versatile type of heating system that uses hot water to transfer heat throughout your home, unlike a furnace system which uses heated air to distribute warmth. Water boilers do just what the name implies, they boil water which then gives off heat as the water passes through a radiator or other distribution mechanism in the room. After the water cools down, it returns to the boiler where it is heated back up and the process starts all over again, which allows the water boiler to heat your home efficiently. The two most common fuel types for boilers are oil and natural gas. You can learn more about the advantages of each fuel type here!
There are also some boiler systems that heat the water to the point that it turns to steam and uses the heat carried in the steam to provide warmth to your home. These are called steam boilers but are much less common in the US than a traditional water boiler.
Water boilers are a highly efficient and practical way to provide your house with warm air whenever you need it. If you're interested in having a water boiler installed, click the button below to schedule a free no obligation estimate!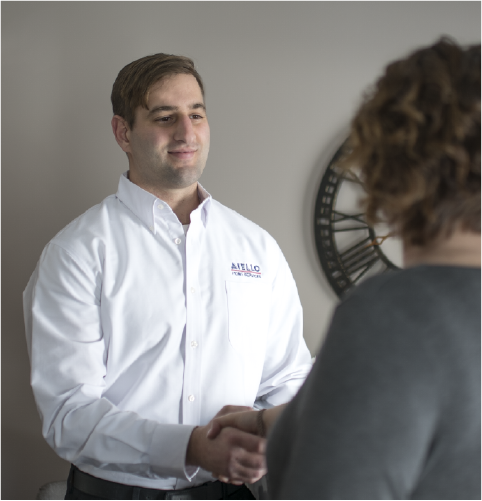 Getting a New Water Boiler

Water Boiler Cost and Pricing of Installation
It is never recommended to attempt installing a boiler heating system of any kind by yourself. It is a very complicated and difficult process that if done incorrectly could result in a lot of damage, wasted time, and ultimately money. Hiring a certified professional to install or replace a water boiler system will take all the stress off of you.  Our expert HVAC technicians will not only install your water boiler, but they will guide you through the initial steps of deciding what is the best heating system for your home based on your personal needs.
All Aiello Home Services HVAC technicians are trained and professionally certified in boiler repair, replacement, and installation. With Aiello, you can sit back and have confidence that the job will be done right and you can enjoy your heating system in no time! Aiello will even provide an upfront quote so you will understand all your pricing options for your water boiler service.
When You Need Heating Installation or Replacement, Aiello Is Here!
Whether you've had a serious heating system breakdown, you're looking for information on an installation, or you're interested in a tuneup/maintenance to help increase your system's efficiency and lower utility costs, Aiello Home Services can do it all! Reach us by phone at 888-861-8859 or contact us online and say, "Hello, Aiello!"