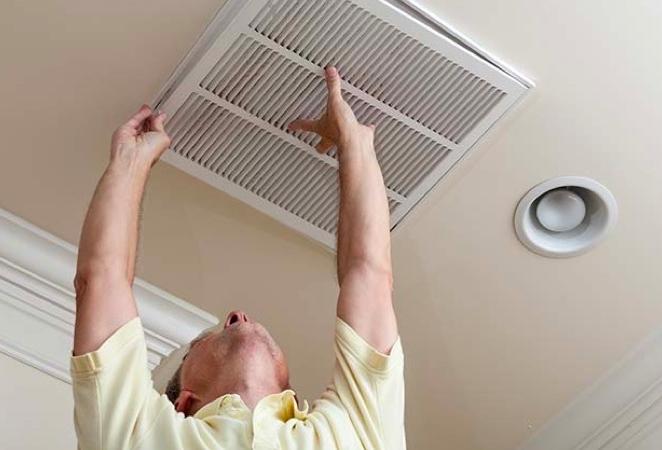 Duct Sealing Services in CT
Lower Energy Costs With Duct Sealing
Most homeowners just assume that the ductwork for their home's heating and cooling systems is functioning effectively behind the scenes. In fact, many times homeowners believe it is their AC or heating system that needs repair, however, we often find serious air leaks that let hot or cold air escape and lead to rising energy costs.
The repair and sealing of ductwork is not a job for the DIY enthusiast. Rather, it's a task worth leaving to a qualified, licensed HVAC professional. Air duct sealing ensures that your home maintains its proper static pressure and airflow—something you can easily compromise by attempting the job on your own.
Aiello Provides Duct Sealing Solutions in Connecticut

Aiello's certified, experienced HVAC technicians will come to your house to inspect and evaluate your central air duct system. We'll recommend ways to maximize your home energy savings, improve comfort levels, and create a better operating efficiency of the air duct system.
You Have Questions. Aiello Has Answers.
What will you learn from an Air Duct Diagnostic? We'll work to locate any obvious breaks in your duct work, along with the exact amount of leakage we find. This measurement helps us understand the performance level of your air duct system and determine how to improve it. Many of our clients have been surprised to discover nearly 40% of their heating or cooling was being lost through air leaks!
What will you save? Duct sealing may save up to $850 in energy costs per year. Exact savings are difficult to estimate because they're dependent on variables such as weather, your home's condition and age, the overall HVAC system, and other factors like current energy prices. Still, some homeowners have reported their energy costs went down by 40% after duct sealing services.
Can the savings be estimated? Aiello's certified air duct technicians are qualified to run a program designed by the EPA called "Duct Investor", which takes a comprehensive list of variables and estimates what the homeowner can expect in cost savings.
How long will the duct sealing last? The HVAC duct sealing material used by Aiello Home Services has been found to last over 10 years without failure. The sealant is an environmentally friendly, water-based solution that leaves no lingering odor and is not considered toxic by OSHA. It is UL-listed for smoke generation and flame spread.
How long does duct sealing take? Every system is different, but for most homes the process can be completed within one day. Our method utilizes patented technology that seals "from the inside out" and eliminates the need for manual access.
How is the sealant administered? An aerosol mist is sent into the interior of the duct/ventilation system, and is odorless when it dries. It forms a bond around any leaks until it is sealed. Once the aerosol has finished its work, we'll generate an official report at the end of the project, with before and after results.
Code compliance is fully documented, and our lead HVAC technician is a certified air duct sealer and BPI professional.
Ready for your duct sealing?
Proudly serving over 100 cities and towns across seven Connecticut counties.
Hartford Country
MIddlesex County
Tolland County
New Haven County
Windham County
New London County
Litchfield County