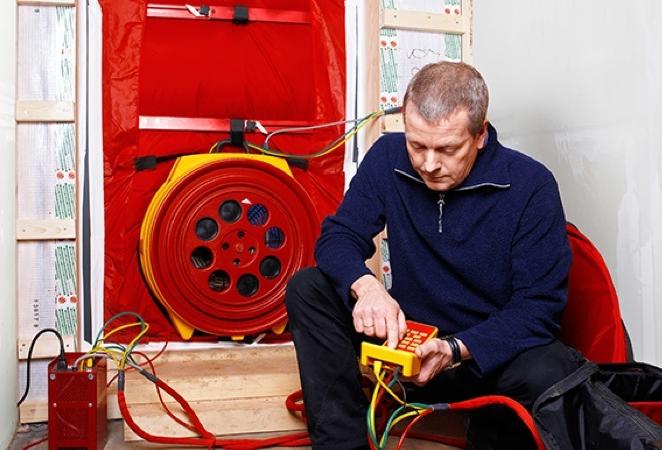 Home Energy Audit in Connecticut
Save on Energy Bills with a Home Energy Assessment
Aiello Home Services has partnered with Energize Connecticut to share huge energy savings with our customers. When you sign up for a Home Energy Assessment, you'll receive a visit from an authorized Aiello technician of Energize Connecticut, who will make on-the-spot improvements to your home's ducts, light bulbs, windows, doors and much, much more!
On average, services are valued at $1,000 and customers save $200–$250 a year on energy bills.
Start saving with Connecticut's most comprehensive Home Energy Assessment!
Aiello has partnered with Energize Connecticut to perform comprehensive Home Energy Assessments for qualifying homes. Here are just a few of the ways we eliminate energy waste and save you money:
We identify critical drafts and air leaks with a blower-door whole house test
We assess air leaks within your duct system
We seal air leaks around your doors, windows and ducts
We install low-flow shower heads and faucet aerators
We wrap hot water pipes with foam insulation wraps
We locate money-saving rebates for qualifying appliances and AC systems
We install door sweeps and V-channel weather stripping around doors
We provide incentives for insulation and window upgrades, now for all homes
In addition to the above, an Aiello Home Services technician will review the work done in your home and share additional resources for an energy efficient home.

Reviews
Earning Connecticut's Trust, One 5‑Star Visit at a Time
"My expectations were happily met and exceeded..."
"This was my second exposure to Aiello Home Services and like the first my expectations were happily met and exceeded. The assessment took a day and the work was thorough, professional, and perfect. I can highly recommend that every homeowner spend the minimal fee for this "Home Energy Assessment" because the knowledge they will gain about their home and their energy use is priceless. Truly, what you gain from this program is far more than what it costs."

—Chris B. | Connecticut homeowner
See all 1,000+ 5-star reviews!
Schedule a Whole-Home Energy Assessment Today
Proudly serving over 100 cities and towns across seven Connecticut counties.
Hartford Country
MIddlesex County
Tolland County
New Haven County
Windham County
New London County
Litchfield County