Well Pressure Tank Repair and Replacement in Connecticut
If You Have a Problem With Your Well Water Pressure Tank, Aiello Can Help!
If your well pressure tank isn't working properly, it can overload the well pump and cause a lot of problems with your plumbing.
The most common problems with well tanks:
Short cycling
Lack of water pressure
Water leaking around the well tank
If you're experiencing any issues with your pressure tank, the best thing you can do is call a professional. Our expert plumbers are fully trained to not only identify your well tank problems, but provide you with the best options for repairing or installing a replacement tank.  You can give us a call or click the button below to schedule service and you might be eligible for a free consultation if you have no water for how much it will cost to handle your pressure tank!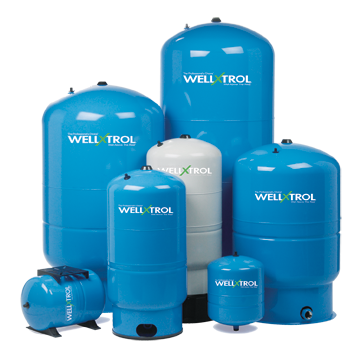 Repair or Replace Your Well Tank Before More Problems Occur
If you are experience a well issue, you will want a professional to take a look right away. Allowing the problem to persist can be costly in the long run and a professional plumber will be able to help you avoid any further damage. The main reason for more damage is caused by short cycling. Short cycling happens when the well tank loses its ability to hold air pressure. Lack of air pressure causes the pump to constantly turn on and off which over time can tax the pump too much and damage it. All this turning on and off can also cause the electrical controls to short out, rendering the pump useless. If your water pump fails, you will lose water pressure and supply in your home completely.  It is important to have your well water pressure tank examined by a professional at the first sign of trouble in order to avoid additional costs.  Aiello Home Services certified plumbers are experts at repairing and replacing well pressure tanks. Don't hesitate to give us a call if you're dealing with a pressure tank problem!
How your well pressure tank and pump function
Your well pressure tank is an important part of your plumbing system. If you get your water using a well, your water pressure is generated by the tank. Pressure is created by an air pocket at the top of the tank that gets stronger as the tank pump fills the reservoir with water. Once the air pressure rises to a certain level (generally 50psi) the well pump shuts off until someone in the house uses water. After water is used in the house, the pressure in the tank will decrease. When the pressure in the tank is reduced to about 30psi, the whole process starts over again.
Give Aiello a Call!
Aiello Home Services is locally owned and operated. Give us a call today to learn more about or schedule a personalized well pressure tank repair or replacement. Reach us by phone or contact us online and say, "Hello, Aiello!"