Have You Signed Up for An Air Conditioning System Check?
Maximize Efficiency for Your A/C System Today
If there's one thing Connecticut homeowners dread during the summer, it's the prospect of their home air conditioning breaking down on a hot and humid day. The truth is, many of those air conditioning breakdowns occur due to a lack of regular, preventative maintenance!
One of the best ways to keep your home air conditioning system running at peak efficiency is to schedule a home A/C system check with Aiello Home Services.
This is a service we provide with our Aiello Advantage service plans. If you haven't signed up, take a moment to check out the extensive list of benefits we provide to our Aiello Advantage members, including discounts, priority scheduling, and more.
Customers who have signed up for our Home Energy Assessment services have seen significant energy savings within their households. We recommend this service to all our Connecticut friends and family, and we recommend it to you, too!
Not an Aiello Advantage member? No problem! Our experienced HVAC technicians would be happy to come out and take a look at your system!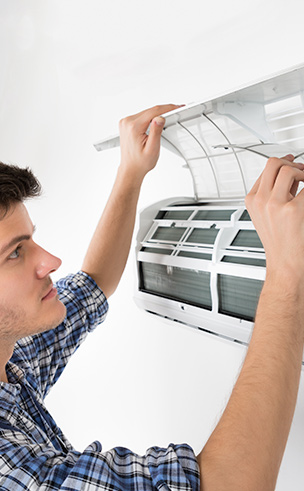 Schedule Your Home Air Conditioning System Check Today
Don't wait until a small problem with your A/C system turns into a big one. Call Aiello Home Services and we'd be happy to take a look into your system and identify potential concerns and areas that might need improvement. We'll speak with you about our recommendations and no work will begin until you give the okay on the project — and the price.
Ready to schedule your A/C system check with Aiello? Great! Just give us a call, or contact us online and say, "Hello, Aiello!"