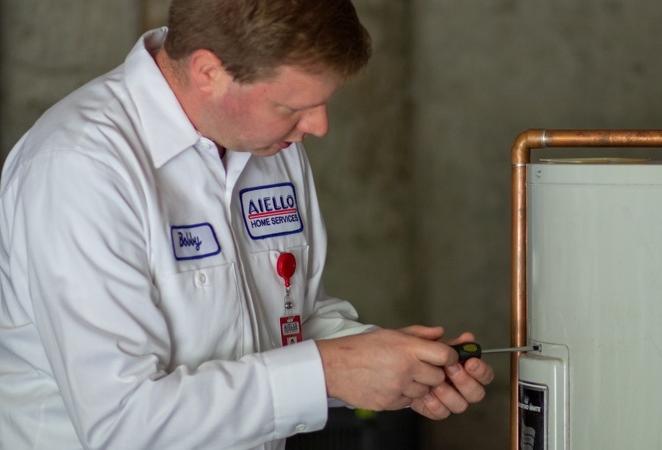 Water Heater Maintenance and Check in CT
Is It Time for Your Water Heater's Check-Up?
Want to get the most out of your water heater investment? The best way to ensure a long life for your water heater is to have it checked every year, just like your furnace, boiler or air conditioning system. This regular maintenance safeguards your investment and gives you the peace of mind that you won't wake up or come home to find 50+ gallons of water on your basement floor. A water heater system check will help keep you in warm water for years to come.
During a water heater system check, Aiello Home Services will evaluate the current state of your water heater and check that everything is functioning as it should be. If we do notice anything we will bring it to your attention, so you avoid costly and disruptive issues in the future. We offer maintenance for all types of water heaters:
Tankless Water Heaters
Electric Hot Water Heaters
Indirect Water Heaters
Natural Gas Hot Water Heaters
Heat Pump Water Heaters
When you want to get the most out of your water heater scheduling your maintenance is easy. Just pick up the phone, dial or contact us online and say, "Hello, Aiello!"
Ready for your water heater check-up?
Proudly serving over 100 cities and towns across seven Connecticut counties.
Hartford Country
MIddlesex County
Tolland County
New Haven County
Windham County
New London County
Litchfield County