Heating, Air Conditioning, Plumbing Repair in New Britain, Connecticut
New Britain, CT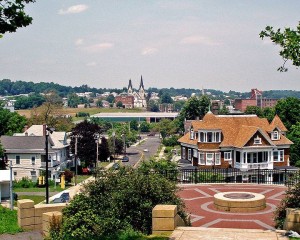 The city of New Britain, Connecticut is located in Hartford County, roughly nine miles southwest of Hartford. The city is affectionately referred to as both the "Hardware City" (based on its history as a manufacturing center and headquarters of Stanley Black & Decker) and as "New Britski" because of its large Polish population.
The area occupied by modern day New Britain was originally settled in 1687 and incorporated as a new parish under the name New Britain Society in 1754. First chartered as a township back in 1850, then as a city in 1871, New Britain consolidated with the nearby town of Berlin in 1905. In the early 20th century, New Britain was known as the "Hardware Capital of the World," thanks to a number of major hardware companies with headquarters in the city—companies such as The Stanley Works, P&F Corbin Company (later Corbin Locks) and North & Judd.
Frederick Trent Stanley created Stanley's Bolt Manufactory in New Britain in 1843, where he made door bolts and other wrought-iron hardware. A few years later his cousin, Henry Stanley built The Stanley Rule and Level Company in New Britain, manufacturing planes and levels used by woodworkers throughout the late 19th and early 20th centuries. The two New Britain-based Stanley family owned companies eventually merged with Stanley Rule and Level Company becoming the "Hand Tools Division" inside Stanley Works. Also worth mentioning, both the wire coat hanger, dribbling a basketball and the sport of racquetball—all originated in New Britain.
HVAC Installation, Plumbing, Electrical & More
Aiello in New Britain, CT
Aiello Home Services has been offering service to New Britain since 1931 when Aiello began selling fuel oil. Aiello offers heating and air conditioning repair and replacement, plumbing, electrical as well as indoor air and water quality systems.
During the hot summer months you can trust Aiello Home Services to properly repair or install your air conditioning system to make sure you stay cool. The winter months can be long and cold in New Britain, so you can count on Aiello to make sure your heating system is working. Aiello offers 24/7 heating repair to keep you and your family out of the cold.
Whether it is a plumbing or electrical emergency or just scheduled maintenance, Aiello services New Britain to make sure all your heating, air conditioning, electrical and plumbing issues are resolved successfully in a timely manner.
And now Aiello sells and installs new stand-by generators from America's leading manufacturers, Kohler and GE.
Everyone at Aiello was great, and I received an exceptional level of service from our technician Rocco. He did a great job of explaining the options of the job, and was done in less than an hour. Loved the fair, upfront pricing as well!

Very professional & friendly. Explained filter information. Justin was also very polite & friendly. Seemed to do a very thorough job in checking the air conditioning units.

Came on time as scheduled. Friendly and knowledgeable service representative. Thoroughly checked A/C and heating units. Excellent service.

Our electrician, Sam, was excellent. He explained clearly everything he was doing and why, he addressed all our problems, cleaned up after himself, and was a pleasure to have in the house. We were delighted by his service. As well, Aiello is a very good company to work with.

Yearly service on my HVAC system today. Very happy with the technician Shawn. He was friendly, professional and knowledgeable. Did a complete check of system inside and unit outside. Never had anyone do such a thorough job. Gave me recommendations for future service and explained the work he had done today. Great representation of Aiello Home Services.

Bob the technician was warm, friendly and very thorough. He did a wonderful job. Once he diagnosed the problem he quickly acquired his tools and went to work. I know that with his experience and knowledge that the work was done well and can rest assured that my plumbing will last a long time.

The entire experience was perfect. From the efficient chat box online to the online scheduling. Customer service was outstanding with their communications. Dan - who came out, was professional, courteous and knowledgeable. And got the job done. So happy I called Aiello!!

Aiello replaced our furnace, a/c system and hot water heater, all in a single day. Their helpful and well-informed replacement specialist worked with us to choose the best products and come up with a fair price -- and on the day of the installation, their crew arrived right on time, worked hard all day, and completed the work smoothly, with a minimum of fuss and no mess (their clean-up was little short of miraculous). Everyone was courteous, helpful and knowledgeable. I strongly recommend them.

We had our furnace and air conditioner replaced by Aiello. The entire experience was outstanding, from dealing with the sales representative to the crew that came and did the work. Everything they did was efficient and professional. The men were pleasant and polite at all times. They left the basement cleaner than when they arrived. We are very pleased with system, and everything was explained to us very patiently. In all, we are very pleased we called Aiello

Hello Aiello "You Saved Us". We needed help & they were promptly out on short notice due to #NoHeat . Richard N., tech was professional, caring & knowledgeable. Diagnosed our 28yr old gas furnace. Result: R.I.P. furnace. Then Richard called the cavalry Tim L., replacement specialist who braved the latest Nor'easter, 3/7/18, was here within 35 mins. Tim was knowledgeable, professional, calculated BTUs & proposed options. Bottom line: Tim L. was like family....no pressure, no games...just the fact #New gas furnace set up. We are so proud to continue to be part of the Aiello family. #QualityQualityQuality #SnowStormsDontStopThem

The best service ever. Pete was friendly and solved a problem quickly and let me know what was happening through the whole pump replacement. Brittany was very courteous on the phone and let me know exactly when Pete was arriving. I highly recommend this team.
Yes... We can do the same for you.