Knob and Tube Wiring
The Electrical Dangers of Knob and Tube Wiring
Considered to be cutting edge at the time, most homes built between the late 1800's and mid-1900's are equipped with what is called knob and tube wiring. Knob and tube is an electrical system that was prevalent in older homes and adequate for the times, however, due to the ever-changing demands for electricity, knob and tube wiring has many dangers for homes with modern appliances and accessories.
Some reasons why knob and tube wiring doesn't meet modern standards are:
Knob and Tube isn't equipped with a grounding wire
Knob and Tube isn't insulated well and is prone to electrical fires
Knob and Tube can cause electrical shocks
Knob and Tube can drain the life of modern appliances
Because knob and tube wiring systems aren't grounded, homes built with knob & tube won't have three-pronged electrical outlets. Not only is this unsafe, but it will also make using many modern entertainment systems and other technology unusable in the home. Another downside to knob & tube wiring is that due to the high risk of electrical fires, it can be very difficult to obtain homeowners' insurance if knob and tube wiring is installed.
Due to the potential hazards, it is highly recommended that you have a professional electrician come out to inspect your knob and tube wiring. Aiello's expert technicians can identify if you have knob and tube and make any recommendations on the best replacement options for you. Click the button below to talk to an expert today!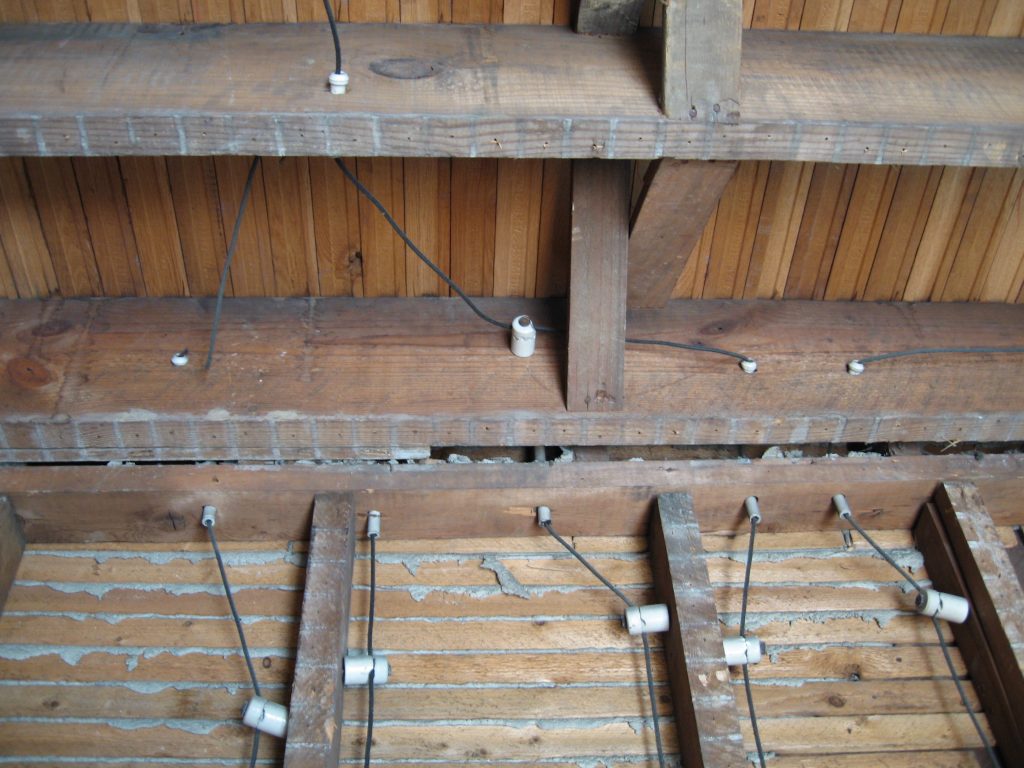 What To Do If You Have Knob and Tube Wiring
Aiello's Expert Electricians can Help!
The best way to identify if your home has knob & tube installed is to look in the attic or basement. You can see an image of knob and tube wiring to the left, and it can also be identified by the large ceramic knobs and ceramic tubes protruding from them. If your home uses knob and tube wiring it is highly recommended that you get it replaced with new electrical wiring designed to handle the requirements of modern technology.
When you work with an expert electrician they will most likely:
Disconnect or de-energize the old knob and tube wiring
Map the best route for the new wires
Install your new electrical wires.
Simply being able to de-energize the knob & tube system will save time and money because you won't have to remove and dispose of the old wires! If you have knob and tube wiring providing power to your home and you'd like to look into replacing it with modern electrical wires, You can conveniently schedule service online, chat live with a customer service representative on our website, or give us a call at (855) 566-0838!