Why Choose Aiello Home Services?
We are Connecticut's Trusted Plumbing, Heating, Air Conditioning and Electrical Professionals
We didn't become Connecticut's leading and most preferred residential home services company by being ordinary. We are proud to provide you with a wide variety of services. When you need plumbing, heating, air conditioning, electrical, heating oil delivery or energy saving services, we are the ones you call. We will show up in the big red truck, fully stocked and ready to perform any task. Finding a company you trust, that provides this many services for your home, makes your homes' maintenance simple. Since 1931, we have been providing the highest level of service at reasonable rates. We're also proud to offer a 10% Military Discount and a 10% Senior Citizen Discount on repairs.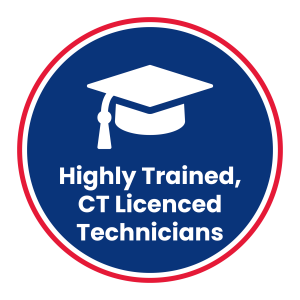 First-rate service providers is all we'll allow in your home.
We're Happy to Help — Give Us a Call Anytime!
When you call Aiello, our live customer service department is available night and day to help you with whatever you need. Our goal is to keep your home comfortable for you and your family. Whether you're searching for a plumber, electrician, AC repair, new heater installation, or other home services repairs, you can trust the professionals at Aiello For more than 80 years, Aiello Home Services has built a reputation for quality work, trustworthiness, and honest pricing. Give us a call at 888-861-8859 or contact us online and say, "Hello, Aiello!"