Air Conditioning, Plumbing & Heating Repair in Haddam, Connecticut
Haddam, CT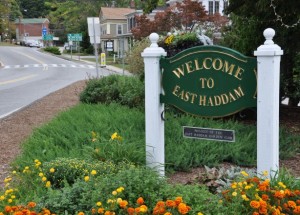 Haddam, Connecticut is a town in Middlesex County, located in the south-central part of the state in the lower Connecticut River Valley. Bordering Haddam to the north are the towns of Middletown and East Hampton, with East Haddam to the east, Chester and Killingworth to the south and Killingworth and Durham to the west. Haddam has the distinction of being the only town in the entire state to be bisected by the Connecticut River, with its residents living on both sides; Haddam and Higganum on the west and Haddam Neck on the east side.
The land now occupied by modern day Haddam was purchased from the Wangunk (a tribe of Native Americans that lived in the region) in 1662 for approximately $100. Incorporated in 1668 and named Haddam (after Hadham, England) the landscape wasn't particularly good for agriculture with a majority of the farmable land being located right along the river. Early settlers in Haddam had to be very resourceful, given the limited amount of tillable land, making use of all natural resources in the area including water, fish, timber and granite. The river itself served as a major economic resource in Haddam for years, not to mention a key player in transportation into and out of the region. Shipyards were built up and down the river, while the river's many tributaries provided much needed power for mills and factories.
HVAC Installation, Plumbing, Electrical & More
Aiello in Haddam, CT
Aiello Home Services has been offering service to Haddam since 1931 when Aiello began selling fuel oil. Aiello offers heating and air conditioning repair and replacement, plumbing, electrical as well as indoor air filtration and water quality systems.
During the hot summer months you can trust Aiello Home Services to properly repair or install your air conditioning system to make sure you stay cool. The winter months can be long and cold in Haddam, so you can count on Aiello to make sure your heating system is working. Aiello offers 24/7 heating repair to keep you and your family out of the cold.
Whether it is a plumbing or electrical emergency or just scheduled maintenance, Aiello services Haddam to make sure all your heating, air conditioning, electrical and plumbing issues are resolved successfully in a timely manner.
And now Aiello sells and installs new stand-by generators from America's leading manufacturers, Kohler and GE.
Exceeded my expectations. Excellent service.

You can't find a better company to take care of all of your needs. They are friendly and efficient and sincerely care about their customers. You can't go wrong with Aiello.

We've had Aiello come and service our AC, hot water heater and furnace for about 5 years now. We got their information from the stickers left on those appliances from the previous owners. They've always been punctual, the work done well and everyone we've interacted with for both emergency fixes and regular maintenance has been very polite and nice.

My wife and I needed a job done today. Because I take care of my wife as primary care provider, we called Aiello to get an electrician. The office staff made sure that Ryan could stop by on his way from a call in New Britain. Ryan took care of the issue. He was cheerful and professional and explained what he was doing and it's cost thoroughly in order to get an approval or rejection of the plan he recommended. We were very satisfied with his work and if we needed an electrician again, we would hope that Ryan could come.

Fantastic same day service, Bobby N. was very knowledgeable and professional. We were able to walk through a series of options to address the plumbing problem, I appreciate Aiello's approach with upfront pricing.

Rocco C, the plumbing expert who was sent by Aiello Home Services to repair a leaking pipe was thoroughly professional, very knowledgeable and completed the repair perfectly. He also recommended the replacement of the very old main shut off valve in the basement which gives me an easier and more reliable way to shut off all incoming water. Rocco is an excellent technician.

We recently had our air conditioning and boiler replaced. The team that came out was awesome. I want to thank Jason, Tyler, Mark, Steve, Nick, Jamie, Scott and Bill. I couldn't have asked for a better team. They were hard working from the time they arrived until they left. They worked neatly and did an excellent job on everything. If you need air conditioning, heating, electrical work, or plumbing these are the guys for you. We also purchased their service partner agreement. This makes you a priority when you call. Your name automatically goes to the top of the list. You also get discounts on the work you need done. Lastly I can only say that if you want quality work and people who know what they are doing call Aiello.

Rick Newman performed my annual heating system preventative maintenance checkup today. Rick arrived on time, was extremely professional, knowledgeable, and efficient. Thank you Rick for all your efforts this morning. Additionally, this annual heating system checkup was 100% covered under my Aiello Service Partner Agreement which also covers my annual AC checkup. This Partner Agreement also puts me on a priority list for emergency services and a discount on parts if needed. Well worth the small monthly fee.
Yes... We can do the same for you.