24 Hour Emergency Electrician
Call Anytime for Electrical Service and Repair
Electricity is one of the most important resources available today and if your power goes out or you're having another electrical emergency, you need help fast. With limited or no electricity, your refrigerator won't be able to keep your food cold and can cause it to spoil, and you'll also have difficulty finding your way through the dark which increases the risk of injuring yourself. If you're dealing with a circuit breaker issue, there is also a chance that an electrical fire could start and threaten your home. Aiello Home Services licensed electricians can figure out what's causing the problem and get it taken care of quickly so you won't be stuck in the dark. No matter what time of day or night you need emergency electrical help, Aiello is there to take your call!
Don't hesitate to give Aiello a call if you need emergency electrical repairs. Our electricians are here 24 hours a day to help with any electrical emergency you have!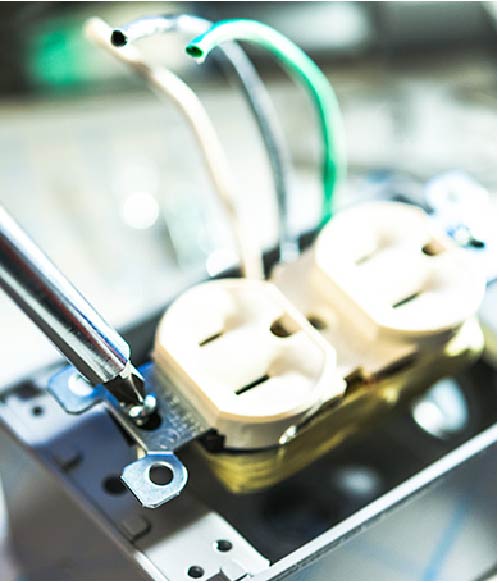 Call 24/7 for Emergency Electrical Repair
Emergency Same Day Electric Service
If you're in need of emergency electrical service and it's the middle of the night, don't lose hope! With Aiello, you can have peace of mind with our 24-hour emergency electrical service.
Emergency Electrical Services Include:
Power Surge During a Storm
Electrc Meter No Longer Connected to Your House
Water in Your Breaker Panel
Rust on Your Circuit Breaker
Fuse Box Related Issues
Damage from an Electrical Fire (call the fire department first)
We provide up-front pricing so you don't have to wonder what it costs to handle your problem. When you're facing an electrical emergency, Aiello is just a call away!
Our electricians are all certified and trained to handle any electrical service or repair so you don't have to panic when you're dealing with an electrical emergency. Just call Aiello and we'll be there quickly to fix your electric problem! If you're facing an electrical emergency, you can easily reach us at 855-569-9576 and we'll have your problem fixed in no time! Any day and every day, Aiello is ready to help!
When You Need Emergency Electrical Service, Aiello Is Here!
To learn more about our emergency same day service Click Here. When you need emergency electrical repair, don't hesitate to give Aiello Home Services a call, whether it's early morning or the middle of the night. Just pick up the phone and dial 888-861-8859 or contact us online and say, "Hello, Aiello!"